We're pleased to offer the following services at
Frick Veterinary Services Clinic:
Clinic Appointments
Vaccinations
Mixed Animal - all species, Small, Large, and Exotic.
Farm & House Calls
Surgery - Spay & Neuter
Dentals
Senior Care
Laser Light Therapy
Full Service Radiology
Pharmacy in house
Online Pharmacy www.frickvet.com
Boarding - Lofts, Suites, and Cat Condos.
Livestock Services - Cattle, Sheep, Goat, Pigs, and Horses.
Large Animal Supplies and Vaccines
Purina Pro Plan Food
Hill's Science Diet
Grooming - Summer Shears,Winter Cuts, and Baths.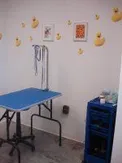 "Suds Your Dog" - Clients may Bathe their animals themselves using our facilities - we clean up the mess.