BOARDING SERVICES
General Information
*For the protection of your pet, animals must be current on all vaccinations before boarding at Dr. Frick's Clinic. Dogs will need DA2PP, Rabies and Bordetella (Kennel Cough). Cats will need RCCP and Rabies. Please bring records of vaccination history. Dr. Frick can get records released from previous vet. Dr. Frick can update vaccinations on 1st day of boarding if needed.
*If animals have fleas or a contagious disease they will be treated.
We would not want any parasites to spread during their stay.
*All boarding must be paid for at time of services.
DOGS
Our Canine accommodations include large indoor kennel ward with canine suites. There is also a canine ward with lofts for our guests. The small and large dogs are welcome to reserve a suite. We can house family member's dogs together in any of the lofts or suites. We have outdoor runs for exercise, weather permitting.
Your dogs are walked 4 times a day in an outdoor grass area. Our last Potty Break is 10 PM and then lights out. Dr. Frick believes your animals will be treated like they are home and part of our family. Your animal will always be in a clean environment. We give your animals extra playtime and walk times. We follow leash rules, training, sitting, basic commands while boarding.
Our costs include food, water, blanket, walks and lots of special attention. You are encouraged to bring any special food or treats, blankets, and their own toys when boarding. We will give any medicine that the animal needs while boarding. We also offer Day boarding for dogs and cats. Call to check for availability, make a reservation, and pricing.
CATS
Feline guests enjoy a room of their own. There are bi-level cat condos which have a shelf and window to look outside. This is less stressful and cats love to hang out and play. Family member's cats can share a condo or loft. We also have regular lofts for the cats to board.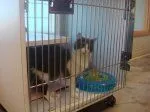 The condos do book up fast. Call for pricing and to schedule a vacation for your feline friends.

We will spoil your pets when they are here. We enjoy them and we have lots of fun during playtime. All animals receive the highest quality of care and compassion that we can provide.